Looking for road trip inspiration in the New England states? Look no further than a Boston to Bar Harbor road trip. Boston's location in the northeastern US makes it the perfect city to fly into and road trip from. We, my daughter and I, took a day to drive up the coast as part of a four day trip that included Acadia National Park. Here's where we stopped.
Boston to Portsmouth, NH
Our fly and drive road trip started after we flew to Boston from Atlanta on Delta. While we would have loved to explore Boston thoroughly, this trip was really more about Acadia National Park for us. We've had a goal for awhile now, to visit as many national park units we can.
Once we picked up our rental car at Boston Logan International Airport, and after stocking up on food, we headed north on the freeway.
The plan was to take US Route 1 and some of Hwy 1a as much as possible but with the weather not cooperating, it was easier to take Interstate 95. An hour later, we exited. First stop: Portsmouth, New Hampshire.
Portsmouth, built on the Piscataqua River is charming with houses that date back to the 1700's. As you cross the river, to the east is the Portsmouth Naval Shipyard and to the west, The USS Albacore Museum where you can tour a unique naval submarine.
Cross the the river via the World War I Memorial Bridge, and you're in the state of Maine in Kittery.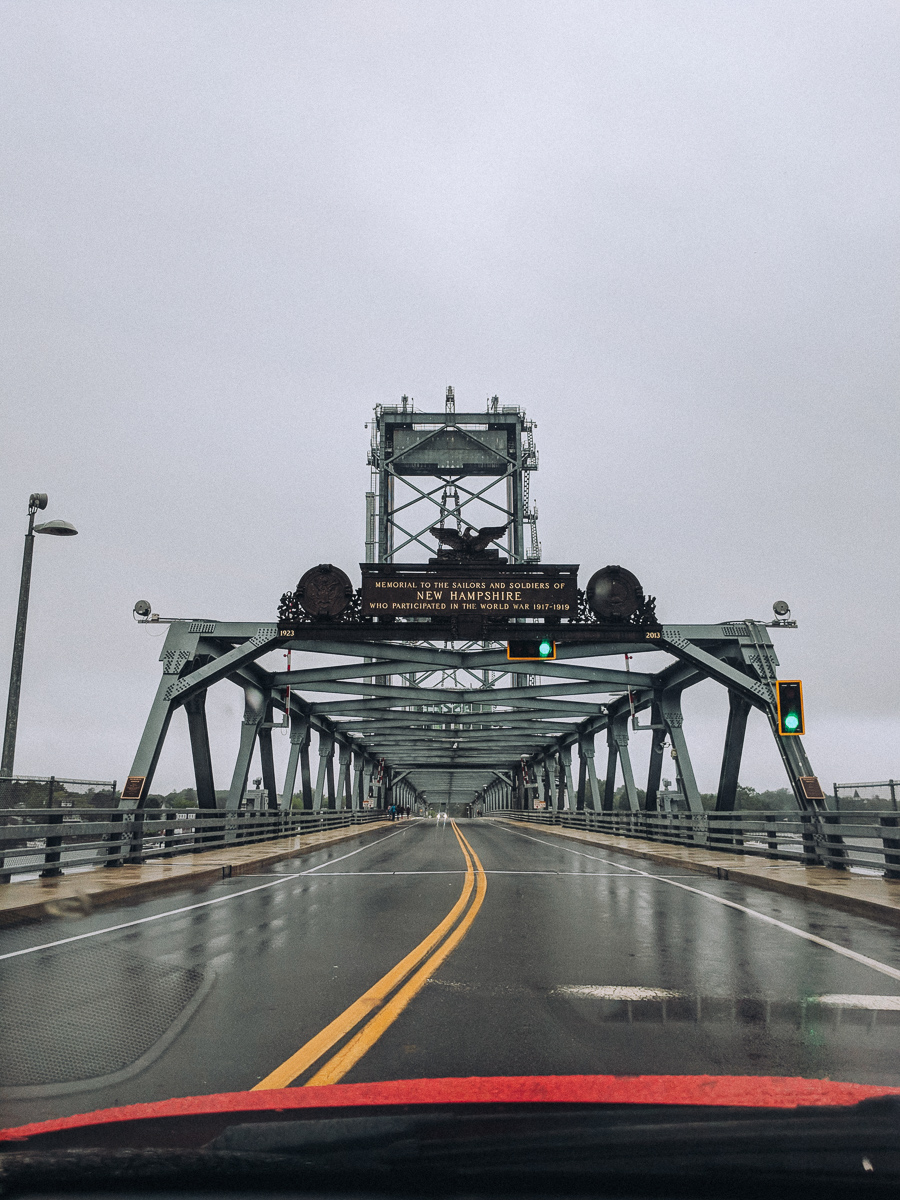 Kittery, Maine
Kittery was settled by the English in 1623 and is the oldest city in Maine. It's kind of funny that now, one of the reasons people stop there is for the outlets. Besides just about every store you could imagine, Kittery has a Trading Post that's been around a long time. Not as long as the houses but they have been in business since 1938. That's a pretty good run too.
If you need any outdoor equipment or forgot any for your trip, this is the place to get it. They have everything you can imagine and a few things you probably didn't.
We ended our visit to Kittery by grabbing some wood fired pizza at a cute little pizzeria in the downtown area before we got back on the road. I would have loved to had time to visit the Strawbery Banke Museum that features more than ten acres of gardens and historic buildings. Saving that for another visit and better weather.
Ogunquit, Maine
Knowing we were so close to the ocean was driving me crazy. Bad weather or not, I wanted to see a real Maine beach.
From Kittery, we drove US Route 1 to Ogunquit, population 892. The unusual name, Oqunquit, means beautiful place by the sea in the Abenaki Indian language. And it is beautiful, even in the rain. Ogunquit Beach sits between the Atlantic Ocean and the Ogunquit River and the nearby cliffs and lighthouse offer sweeping coastal views of the dunes and waterfront.
The beach was surprisingly crowded for a cool, drizzly July day. Most people were cozied up, in comfortable chairs under a long covered sitting area that faces the beach. It looked like the perfect spot to read a book. I can imagine how nice it must be on sunny days.
Kennebunkport, Maine
When I think about Maine in my mind, Kennebunkport is just the kind of place I picture. A cute downtown, quaint homes and beautiful coves. It is Maine. We did little more than drive through but I at least wanted to see it. Especially since it's been special enough for president's to vacation in. Kennebunkport is a popular summer escape and it was crowded. Even in the rain, the shops and cute boutiques were full. Apparently, it's a great place to go antiquing as well.
We drove towards the coast and Cape Porpoise Harbor. Even on a dreary day the brightly colored houses popped against the gray day.
Lobster!
Since we were on a Boston to Bar Harbor road trip, it's only logical that lobster would be included. Honestly, a hot bowl of lobster bisque is not what I thought I would be eating on a July day, but after all the rain and chilly weather, it was perfect. The Lobster Claw Pound & Restaurant in Saco, Maine, near Old Orchard Beach, had the best bisque I've ever had. Creamy with just the right amount of lobster meat in it. Definitely worth a stop.
Southerner Says: I had fully intended on stopping at Old Orchard Beach because I had read it was a Maine must see. However, the weather and our time constraints made stopping impossible. If you attempt the same itinerary as we did, make sure to add it to your stops.
Freeport, Maine
I'm sure there are plenty of perfectly good reasons to visit Freeport, Maine but for us, it was all about L.L. Bean. Founded in 1912, L.L. Bean is one of the oldest and finest makers of outdoor equipment and clothing. If you've purchased things from them before, you know their products last for years!
The official name of the flagship store in Freeport is L.L. Bean Discovery Park because it's more than one store. It's an entire complex of stores with everything from the L.L. Bean line up. It has an amphitheater for live music and other events and for the kids to run around in.
Once inside, our hearts beat faster just seeing the rows of Bean boots and the classic Bean canvas bag. What kind of backpack are you looking for? Doesn't matter, they have it. In addition to the clothing and outdoor store there's a separate store for L.L. Bean Home. If you are sticking around for awhile, there are tons of activities you can sign up for.
Maybe one of the most interesting things about the L.L. Bean flagship store, is that in pre-Covid days, they were open 24 hours a day, 365 days a year! Of course now, 2020, you'll need to check the website for store hours. But still. If you are wondering who shops at L.L. Bean in the middle of the night, I found this NPR article about just that.
Freeport to Bar Harbor
The final leg of our Boston to Bar Harbor road trip wasn't too exciting. I would have loved to continue on Hwy 1 and visit places such as Camden and Belfast but because of the rain and the prospect of having to set up our tent in the dark, which I do not like doing, we got back on I-95 for the last 165 miles of the journey.
As it turns out, we did set up the tent in the dark but the good news was that as soon as we got to Mount Desert Island, home to Acadia National Park and Bar Harbor, the rain stopped. We spent a restful night in our tent, in a beautiful campsite, eager to explore the next day.
To be continued…