7 Fun Stops on a Boston to Bar Harbor Road Trip
Are you planning a road trip to the New England states and looking for inspiration? Look no further than a Boston to Bar Harbor road trip. Boston's location in the northeastern United States makes it the perfect city to fly into and road trip from.
My daughter and I took a day to drive up the coast, as part of a four day road trip that included Acadia National Park and the White Mountains of New Hampshire and I'm sharing all the fun places we stopped from Boston to Bar Harbor.
This article contains affiliate links. That means I may earn a commission, at no extra cost to you, if you book or buy something from a link I provide. This keeps Southerner Says online and on the road. Thank you for your support.
Planning a Boston to Bar Harbor Road Trip
The eastern coast of the U.S. with states such as Rhode Island, Massachusetts, New Hampshire and Maine were made for road tripping. Interstate 95 is the main route north through these states but what fun is a fast moving, big highway when there's more scenic state highways like U.S. Route 1 and 1a along the coast?
Taking the secondary, smaller roads gives you the opportunity to visit some lesser know places and small towns. If you do decide to use I-95, keep in mind that there are tolls on this route.
What stops should you make between Boston and Bar Harbor? The possibilities are endless but some of the stops highlighted in this article are Portsmouth, Ogunquit and Kennebunkport among others. When I have a chance, some must see's I'm adding to my next Boston to Bar Harbor road trip are Salem, Rockland and Camden.
Since our road trip was more about smaller towns, we didn't include Portland this time. However, given it's location, I think it would be an ideal place to overnight since it's just 107 miles from Boston. This gives you the opportunity to break the trip up.
I love this hotel and this one in Portland. Another option is drive the interstate to Portland, spend the night and then take the smaller roads to Bar Harbor the next day.
For the optimal driving conditions, the best time of the year for a Boston to Bar Harbor road trip is late spring, summer and early fall. Just keep in mind that holidays and leaf-peeping season will be much busier.
Before you start your road trip, it's helpful to have a basic plan of where you want to stop and what you want to see so you can estimate how much time you need. Then allow some extra time for the fun unexpected stuff you encounter along the way.
How Far is it From Boston to Bar Harbor?
By interstate, Boston to Bar Harbor is approximately 280 miles and takes roughly 5 hours – with no stops. Driving the secondary highways is approximately 270 miles but it's at a much slower pace.
To use this Google Map, click the icon in the top left hand corner to see all the map layers. Click on the destinations to see the address, phone number and directions. You can also add the map to your own Google account by clicking the star at the end of the map's title.
Boston to Bar Harbor Road Trip Itinerary
Our fly and drive road trip started when we flew to Boston from Atlanta. We would've loved to explore Boston a little more but since this trip was mainly to visit Acadia National Park we didn't spend much time in the city.
Related: 15 Wicked Smart Things to do in Boston
Once we picked up our rental car at Boston Logan International Airport and after stocking up on food and the always important snacks, we headed north.
Since we were road tripping in July, I had counted on warm, sunny weather. The plan was to take U.S. Route 1 and some of U.S, Route 1a as much as possible. Unfortunately, the weather didn't cooperate.
Leaving Boston, the rain was relentless. We opted to take I-95 out of the city with our fingers crossed that we would get some breaks in the weather. Even though it did continued to rain, after about an hour of driving, we exited the interstate at exit 3, Route 33 for our first view of New Hampshire: Portsmouth.
Boston, MA to Portsmouth, NH
62 MILES
Our first stop in New Hampshire was Portsmouth. Built on the Piscataqua River, Portsmouth is a charming town with homes that date back to the 1700's.
As you cross the river into town, notice the Portsmouth Naval Shipyard to the east and to the west, the USS Albacore Museum, where you can tour a real naval submarine.
We didn't really do much other than pass through since we were headed just a few miles to Kittery, Maine, but the museum would be a perfect stop on this leg of a Boston to Bar Harbor road trip.
Other road trip stops to make in Portsmouth, New Hampshire: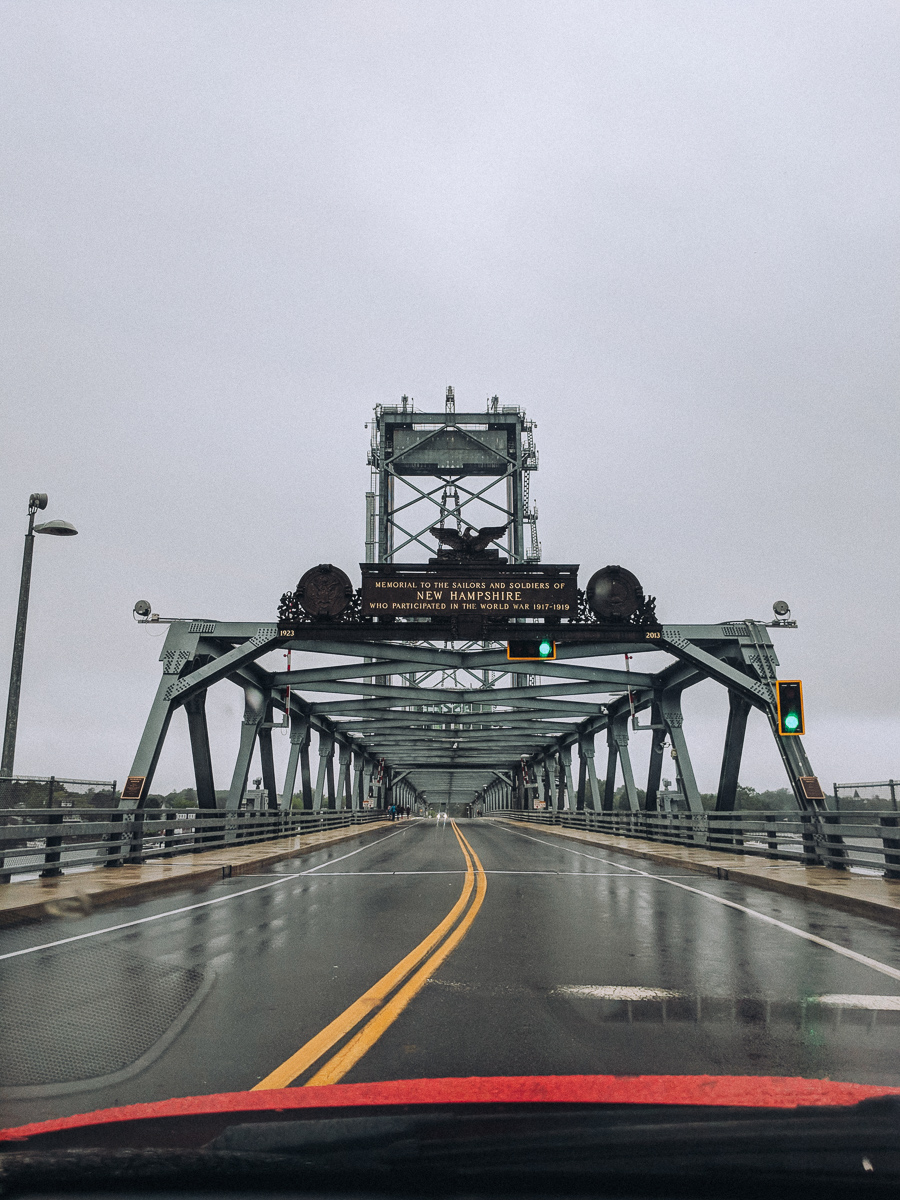 Portsmouth, NH to Kittery, ME
7 MILES
Cross the the river again, from Portsmouth on the World War I Memorial Bridge, and you're in Kittery, Maine, our first official stop from Boston to Bar Harbor.
Kittery was settled by the English in 1623 and is the oldest city in Maine. It's kind of ironic that now, most people stop for the shopping outlets than the historical features.
For a little shopping and history, Kittery has a very popular Trading Post that's been around a long time. Not as long as the houses but they have been in business since 1938.
If there's anything you need to pick up for your trip or any outdoor equipment you want to buy, the Kittery Trading Post is the place for that. They have just about everything you can imagine and a few things you probably didn't.
We ended our visit to Kittery by walking around downtown and grabbing some wood fired pizza at AJ's Wood Grill Pizza. I would've loved to visit the Strawbery Banke Museum. The museum has more than ten acres of gardens, historic buildings and collections devoted to 300 years of American History. Saving that for another visit and better weather.
Road trip stops to make in Kittery, Maine:
Kittery, ME to Ogunquit, ME
15 MILES
I love the ocean and being so close to it without actually seeing it was driving me crazy. Bad weather or not, I wanted to walk on a real Maine beach.
So, from Kittery, we drove U.S. Route 1 to Ogunquit, population 892. The unusual name, Ogunquit, means beautiful place by the sea in the Abenaki Indian language. And it is beautiful. Even in the rain.
Ogunquit Beach sits between the Atlantic Ocean and the Ogunquit River. The nearby bluffs and lighthouse offer sweeping coastal views of the dunes and waterfront.
The main public beach was surprisingly crowded for a cool, drizzly July day. Most people were cozied up, in comfortable chairs under a long covered sitting area that faces the beach. It looked like the perfect spot to read a book. All it needed on this summer day was a fireplace.
Wet and cold, we hurried back to the car to turn the heat on. Even with the sun not shining, this was still one of my favorite stops on our Boston to Bar Harbor road trip.
For other things to do in Ogunquit, consider the Ogunquit Heritage Museum to learn more about the area. South of the beach is well-liked Perkins Cove, full of shops and restaurants.
Road trip stops to make in Ogunquit, Maine: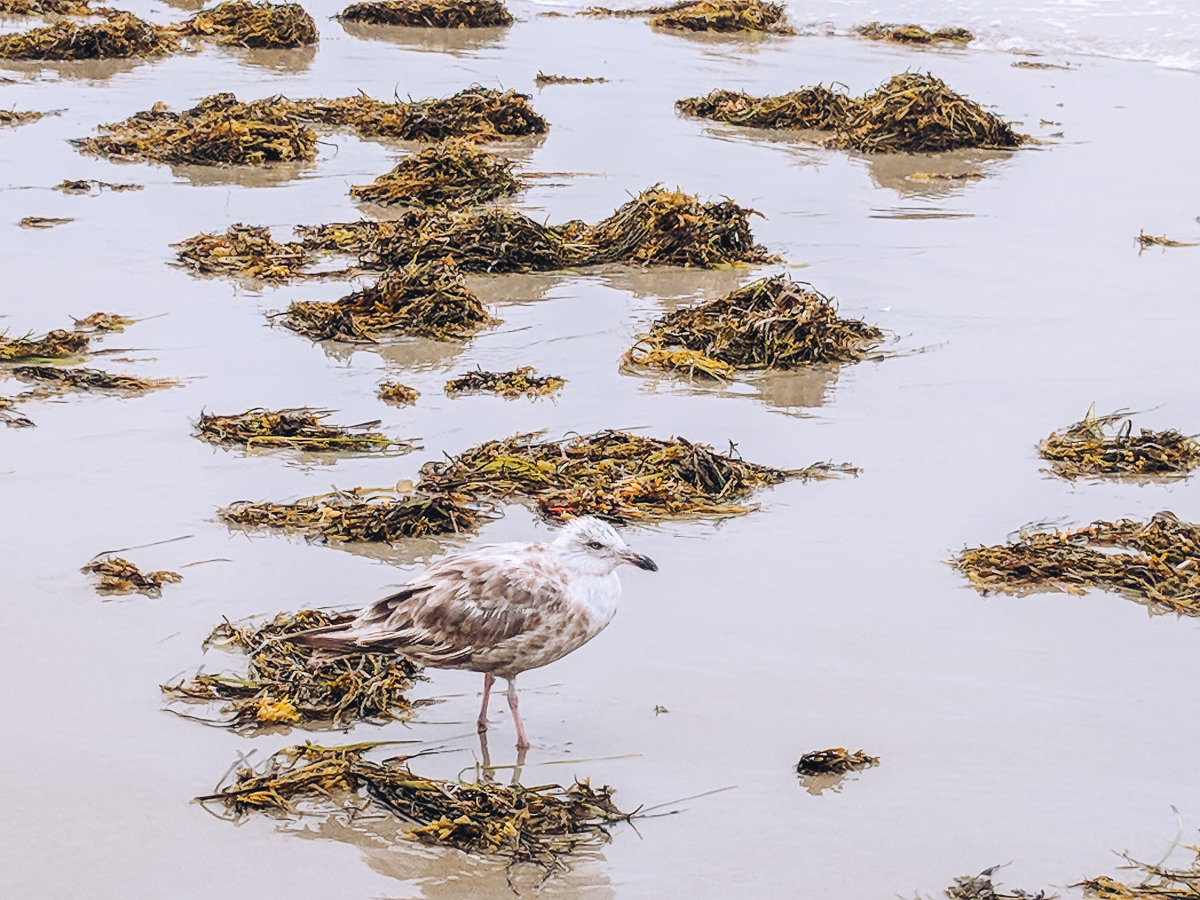 Ogunquit, ME to Kennebunkport, ME
12 MILES
Heading north from Ogunquit, we drove Route 9 into Kennebunkport – our next stop from Boston to Bar Harbor. When I think about Maine, Kennebunkport is the kind of place I picture in my mind. Sidewalks, a quaint historic district and plenty of colorful houses surrounding the water. Quintessentially Maine.
Since it was still raining, we didn't do much more than drive through but I at least wanted to see a bit of it. Especially since it's been special enough for presidents to vacation there for years.
And it's not just for presidents. Kennebunkport is a very popular destination between in the summer months. Even in the drizzle, the cute downtown was overflowing with people.
From downtown, we continued on Route 9 towards the coast and the village of Cape Porpoise Harbor. This area is considered the quiet side of Kennebunkport. It's really beautiful and very peaceful with brightly colored houses in the coves.
I was hoping the weather would clear so we could continue on Route 9 and make a few more beach stops. The north section of Route 9 along the coast passes Goose Rocks, Drakes Island and Fortunes Rock, before it meets the Saco River and turns west. But the rain continued so we worked out way back to Route 1.
Road trip stops to make in Kennebunkport, Maine:
Kennebunkport, ME to Saco, ME
12 MILES
There aren't any coastal views on U.S. Route 1 between Kennebunkport and Saco but it's still a nice drive. Since it was too rainy to stop at another beach – I had intended on stopping at Old Orchard Beach – we decided pull off at the The Lobster Claw Pound & Restaurant in Saco, Maine.
On a Boston to Bar Harbor road trip, it's only logical that lobster would be included at some point but I really didn't think it would be a hot bowl of lobster bisque on a July day that felt more March. However, the bisque hit the spot. It was so delicious – creamy with just the right amount of lobster pieces in it.
The Lobster Claw is a Saco classic and has been in business serving all things lobster for fifty years. In addition to lobster, they have other seafood dishes and for the non-seafood eaters, the serve steak, ribs and chicken.
Road Trip stops to make in Saco, Maine:
Saco, ME to Freeport, ME
33 MILES
I'm sure there are plenty of perfectly good reasons to visit Freeport, Maine but for us, it was all about L.L. Bean and honestly, one of the reasons we wanted to do this Boston to Bar Harbor road trip.
Founded in 1912, L.L. Bean is one of the oldest makers of outdoor shoes, clothing and equipment. If you've purchased anything from them, you know their products are good and last forever.
The official name of the flagship store in Freeport is L.L. Bean Discovery Park because it's more than a store to shop in. It's actually an entire complex of different stores from the L.L. Bean line up. It has an amphitheater for live music and other events and an area for kids to run around in.
Once we were inside the store, our hearts beat a little faster just seeing the rows of Bean boots and the classic L.L.Bean canvas bags. And the backpacks! What kind of backpack are you looking for? It doesn't matter, they have it.
In addition to the clothing and outdoor store there's a separate store for L.L. Bean Home. Besides all this, if you are sticking around Freeport for awhile, there are tons of activities you can sign up for.
Maybe one of the most interesting things about the L.L. Bean flagship store, is that they are open 24 hours a day, 365 days a year. If you are wondering who shops at L.L. Bean in the middle of the night, I found this NPR article about just that.
Road trip stops to make in Freeport, Maine:
Freeport to Bar Harbor, Maine
158 MILES
The final leg of our Boston to Bar Harbor road trip wasn't too exciting. With the prospect of having to set up our tent in the dark and rain, we got back on I-95 for the last 158 miles to Bar Harbor and then into the park to our campground.
As it turns out, we did set up the tent in the dark but the good news was that as soon as we got to Mount Desert Island – where Bar Harbor and Acadia National Park are located – the rain miraculously stopped. So at least, we didn't have to set up in the rain too.
Related: How to Spend an Incredible Two Days in Acadia National Park
Even though we stayed nearby in the park and not in the small town of Bar Harbor, we spent the evenings walking around town and taking advantage of the free wi-fi in Agamont Park since we didn't have very good service in Acadia.
The ocean views from the park are some of the best and there are plenty of benches and grassy areas to sit and enjoy them. From the park, stroll down to the town pier to spot some of the tall ships in the harbor. Bar Harbor is very much worth visiting even if you don't plan on going into Acadia National Park.
Road trip stops to make in Bar Harbor:
Other Things to do on a Boston to Bar Harbor Road Trip
You can easily find other things to add to this Boston to Bar Harbor road trip itinerary. There are so many interesting places along the way. This route would be ideal for a themed road trip.
For example, there are an abundance of breweries in the area for a brewery themed road trip (with a designated driver of course). Kittery has six breweries. Old Orchard Beach, Kennebunkport and Freeport all have several breweries as well.
Another fun Boston to Bar Harbor road trip theme would be to include the lighthouses along the route. There are around ten different ones that could be added to your itinerary.
Tips for Boston to Bar Harbor
Boston to Bar Harbor Road Trip Round-Up
As someone who road trips in the southwest U.S. frequently and is used to driving longer distances, this New England road trip was one of the best and easiest road trips I've ever taken. Have you road tripped Boston to Bar Harbor before? I'd love to hear in the comments what your favorite stops were and what I should see next time.
See you on the road!